Muslin History :
Muslin fabric originated in Dhaka, a country in southern Asia (now known as Bangladesh.) Muslin was termed after Mosul, now a city in Iraq, from where the fabric was first introduced to Europe. Muslins were also widely produced in India and imported from there to Europe in the late seventeenth century. Early muslins were often woven or embroidered with gold. The first recorded use of Muslin was in England, in 1670
Muslin Overview :
Muslin is a typically white or unbleached cloth, produced from corded cotton yarn and sewn using a fine weave. The fabric can be printed, or given a more textured appearance. Muslin cloth can also be decorated with geometric or floral designs.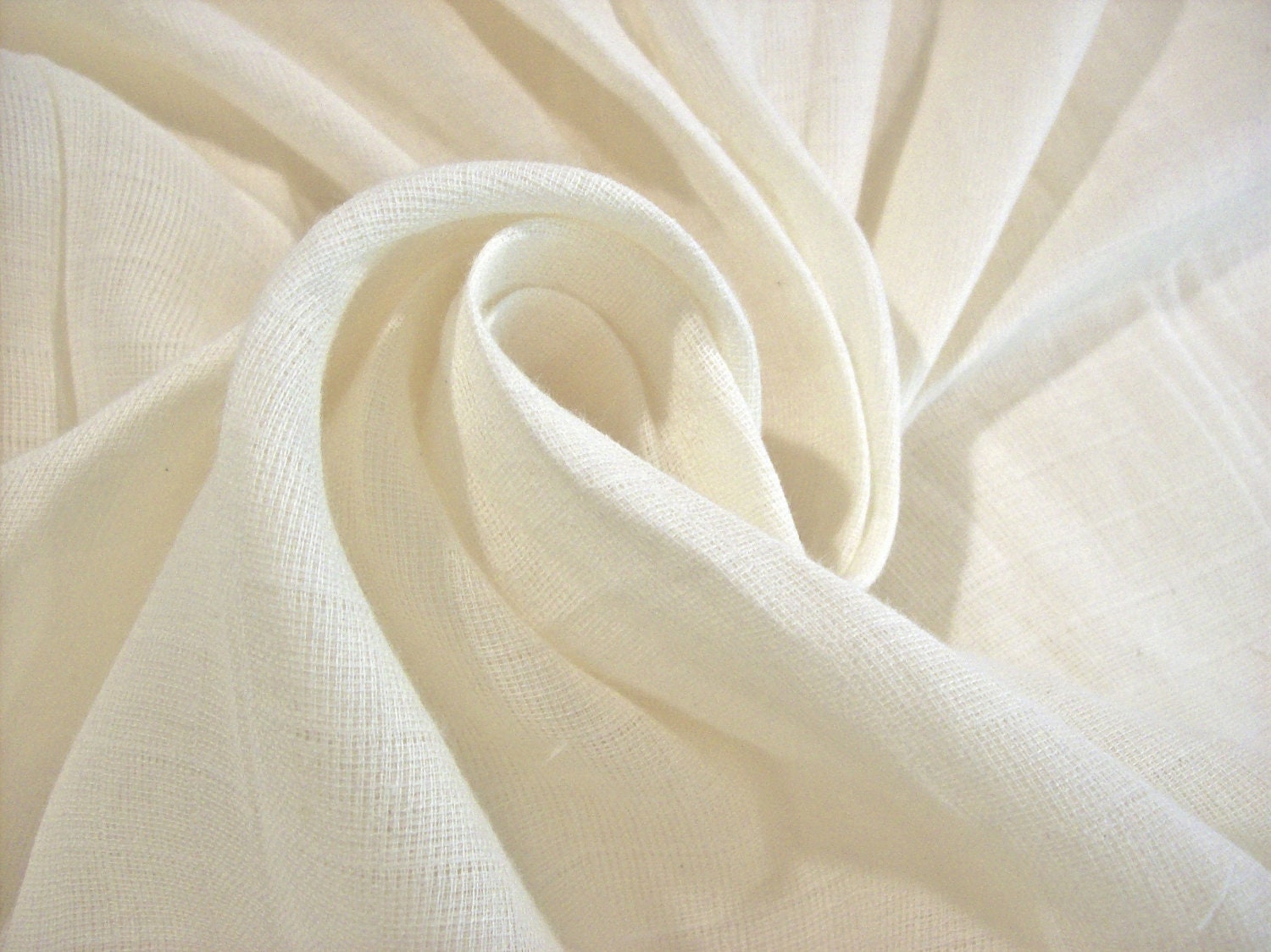 Muslin characteristics :
Muslin is a smooth, delicately woven fabric, which is cool, comfortable and very affordable. Muslin wears well, but also wrinkles fairly easily. Wide muslin is referred to as "sheeting." The term muslin can be used colloquially in the United Kingdom to refer to various sheer cotton fabrics, or in the United States to refer to a firm cloth for everyday use.
What is Muslin used for ?
Muslin is most often used in the design of dresses or curtains but can also be use to complement foam for bench padding. Muslin is a fabric that breathes well, so it is often the choice for hot, dry climates. Muslin is also commonly used in a theatrical setting, as it can be painted to look like various different settings and if treated properly, can become translucent. With the right lighting changes, a backdrop painted on muslin can appear or vanish, allowing for an easy transformation from one scene to another. Muslin is also used as a cheap greenscreen.
What is muslin ?
a cotton fabric made in various degrees of fineness and often printed, woven, or embroidered in patterns, especially a cotton fabric of plain weave, used for sheets and for a variety of other purposes.
muslin,  plain-woven cotton fabric made in various weights. The better qualities of muslin are fine and smooth in texture and are woven from evenly spun warps and wefts, or fillings. They are given a soft finish, bleached or piece-dyed, and are sometimes patterned in the loom or printed. The coarser varieties are often of irregular yarns and textures, bleached, unbleached, or piece-dyed and are generally finished by the application of sizing. Grades of muslin are known by such names as book, mull, swiss, and sheeting.
The material was first made in the city of Mosul (now in Iraq), from which it derived its name. Early Indian muslins were handwoven of extremely fine handspun yarns. They were imported into Europe from India in the 17th century and were later manufactured in Scotland and England.
---